Faculty Development Programs
Edulateral Foundation delivers a program on Artificial Intelligence Basics for instructors in Industrial Training Institutes, engineering colleges, and high schools that combine theoretical and experiential learning. The program is delivered over more than 70 hours using a mix of face to face and online sessions, delivered by the finest instructors in India.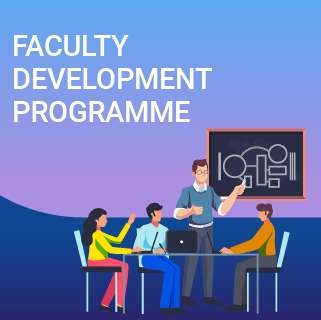 Industry Academy Excellence Program
The College Excellence Program aims to advance higher education practices, policies, and leadership that significantly improve student outcomes. Through this model of College Excellence Program  which works to improve colleges' understanding and capacity to teach and graduate students—especially the growing population of low New Age Innovators and Entrepreneurs
The College Excellence Program actively works to improve student outcomes through research, the development of tools and other materials, and highly visible programs like Rapid Prototyping camps, Entrepreneurship programs, and constant Research. Our definition of student success covers four key areas: Industry academia gap, Innovation and Entrepreneurship.
Future Skills and Advanced Program for Students
Edulateral Foundation, runs the new "Integrated Research and Innovation" Program for Universities and Instituions that focuses on developing knowledge and skills around the following areas:
Future skills
Technical skills in core IT areas with coverage of Cloud Computing and Artificial Intelligence in addition to more traditionally taught topics. 
Training by Edulateral Foundation instructors using a hybrid methodology that uses a mix of face to face learning, online asynchronous learning, live video sessions, experiential lab sessions, and mentoring.